Adding eClassLive Sessions
Article Last Updated July 2019
eClassLive is powered by Adobe Connect, a tool that allows instructors to connect with students online at a specified time. The system includes a wide range of tools to interact with students: video, whiteboards, presentations, chat, and more. eClassLive allows instructors to teach in a virtual classroom and can be used in fully online courses or as part of a blended course.

Adding an eClassLive Session
Sessions are created inside the eClass course it will be used for (or a non-credit course if that is the use case). Navigate to the course on eClass then:
Click on Turn editing on, near top right side.
Move to the topic area where you wish to add content (the week, unit, etc…) and click on the Add an Activity or Resource button.
Choose eClassLive (Adobe Connect) and click Add.
A new page will appear with the eClassLive settings.
General
"Meeting title" - Meeting titles must be unique. The error message A duplicate meeting name was found on the server will appear if you have not selected a unique name. Incorporating the meeting date and the name of your course into the meeting title can help ensure that your meeting name is unique.
"Description" - The intro appears just above the button allowing students to join the meeting. This is a good place for information which should be presented to students before they enter the meeting.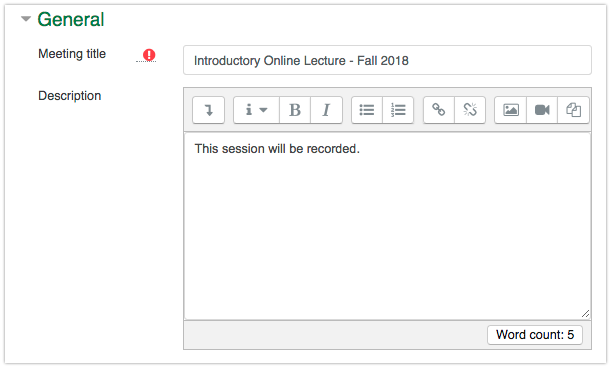 Adobe Connect Settings
"Meeting URL Customization" - Allows the instructor to specify the URL of the meeting. For example, entering egc-introductory-online-lecture would generate the following URL: https://connectuat.srv.ualberta.ca/egc-introductory-online-lecture. If none is specified, the system will generate a random string as the URL.
"Meeting type" - Allows the instructor to specify if the activity is public or private. A public course means that you may invite other users to attend the meeting using the meeting URL. A private course only allows students who are registered in the eClass course to access the meeting.
"Meeting Templates" - Allows you to choose the default template of the meeting
"Start time" and "End time" - Specifies when the meeting will be listed as starting and ending. Students can access the resource with the URL at any time before and after this time. This setting is used primarily to add your meeting time to the calendar in your course.
Common module settings
"Availability" - This setting has 3 options:

'Show on course page' - The activity is available to students (subject to any access restrictions which may be set).

'Hide from students' - The activity is only available to users with permission to view hidden activities (by default, users with the role of teacher or non-editing teacher).

'Make available but now shown on course page' - A link to the activity must be provided from elsewhere, such as from a page resource. The activity would still be listed in the gradebook and other reports.

"ID number" - An ID number identifies the activity for grade calculation purposes.

"Group mode" - The group mode defined at course level is the default mode for all activities within the course. Each activity that supports groups can also define its own group mode, though if the group mode is forced at course level, the group mode setting for each activity is ignored.

This setting has 3 options:

No groups - Students are not segregated into groups.

Separate groups - Only group members can see their own group while other groups remain invisible.

Visible groups - Group members can see other groups but still work in their own group.

"Grouping" - A grouping is a collection of groups within a course. If a grouping is selected, students assigned to groups within the grouping will be able to work together.

"Add group/grouping access restriction" - Allows access only to students who belong to a specified group, or all groups.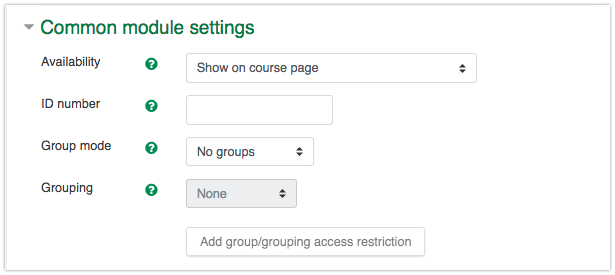 Restrict access
Activity completion
"Completion tracking": Activity completion is tracked, either manually or automatically, based on certain conditions. Multiple conditions may be set if desired. If so, the activity will only be considered complete when ALL conditions are met. A tick next to the activity name on the course page indicates when the activity is complete.

"Expect completed on": This setting specifies the date when the activity is expected to be completed. The date is not shown to students and is only displayed in the activity completion report.

3
Tags
Accessing Sessions
Instructors access eClassLive sessions by clicking on the link for the session identified by the title they entered (next to the eClassLive session icon ).




Once inside the activity clicking Join Meeting will launch the online meeting room:




If you require users not enrolled in your eClass course to access the session, the URL to share with them is listed under Meeting URL Customization. The meeting URL is most commonly emailed directly to the required participants but it can also be embedded in web pages, non-credit courses, or within different learning management systems. Note that anyone with this link will be able to access your session.
Notes
You only need to add one eClassLive session to your course; that same room can be used over and over throughout the term, year, etc. However, please be aware that if you need to record your sessions, it is recommended that you have multiple eClassLive sessions in your course to prevent a known issue with audio corruption in recordings.
Note that the start time and end time of your session are only relevant to your eClass calendar. The room will stay open as long as you would like, regardless of what you set as your start and end point in the initial setup.
---